Assistance programs Waterloo and Black Hawk County.
Find how to get help paying rent, utility and electric bills, health care, and other financial assistance programs in Waterloo and Black Hawk County Iowa. Numerous non-profit agencies, charities, churches and government programs provide help, including free stuff as well as emergency financial aid, to the low income. Locate financial help near you in Black Hawk County.
Many resources are offered. They include emergency grant money, assistance for low income families, free food or school supplies from pantries or charities. There are even Christmas toys as well as free dental and medical clinics. Find more information on how to apply for assistance in the Waterloo area below.
Financial assistance for paying bills, rent, and other expenses
Eastside Ministerial Alliance (EMA) - This Waterloo Iowa agency may be able to provide financial assistance to persons and families that are facing an eviction. Other resources, such as free food or grants for heating bills or to keep the lights on, may be arranged. Call (319) 235-5580, or learn more on Eastside Ministerial Alliance.
Jesse Cosby Neighborhood Center - Waterloo residents can contact this non-profit. It may be able to provide a limited amount of financial assistance to people who are facing a disconnection of their utility or heating service. There will be some money for rent or a deposit as well as information on low income, no wait list housing in Waterloo. Or get help if you were served an eviction notice by their landlord. Call (319) 234-1793. The address is 1112 Mobile St, Waterloo, IA 50703.
Salvation Army - Waterloo/Cedar Falls - Always a great place to contact for information, case management, and free or low cost stuff in Black Hawk County. They will have some limited financial aid. Services and resources are offered for low income, single moms as well as transient families by direct request or agency referrals. Local help with a financial emergency that you may be experiencing (such as rent assistance or utility disconnection), free food, medications, gas or hotel vouchers and more.
There is very limited transportation assistance that may also be provided. Or seasonal help including free Christmas toys from Angel Tree, propane, or school supplies for students. Call (319) 235-9358, or more on Waterloo and Cedar Falls Salvation Army assistance programs.
Single mom rent and housing programs are available. Generally they are income based, but single mothers can get a place to live for them and their kids while self-sufficiency is achieved. Look here for information on housing for single moms.
Eye of The Needle - Provides food boxes for the low income and homeless. Bus tickets can be provided for those attending school, starting work, or who need to go to a doctor's appointments. Clothing for adults includes professional clothing, shoes, underwear, as well as clothing size newborn to 5X. Provides one school uniform at no cost to children or work uniforms for those starting employment. Offers items such as shampoo, toothpaste, deodorant, small appliances, furniture, baby beds etc. too. 607 Sycamore Street, Suite 708, Waterloo, Iowa 50703, phone (319) 215-6151
Waterloo St. Vincent De Paul offers financial assistance such as limited financial aid with prescription medications. Provides 3 to 5 day supply of non perishable food items to people referred from Northeast Iowa Food Bank First. Assists low income clients with mortgage, utility and rent payments. The non-profit also provides assistance with furniture and clothing. Address is 320 Broadway Avenue, Waterloo, Iowa 50703, call (319) 232-3366. Or find other details on Saint Vincent de Paul emergency assistance.
Community Action hardship funds in Waterloo IA area
Operation Threshold - This is the local Black Hawk County community action agency. They are committed to helping the low income and working poor. They may be able to provide short term financial assistance, or direct people to assistance programs. At the same time they will also try to ensure people can get back on their feet over the long term.
Utility and heating assistance

- The program offered is LIHEAP, and this government program will supplement the high cost of paying for winter heating bills for the low to moderate income families and households in the community. The program may also be able to provide emergency furnace repair or replacement for qualifying low income home owners. Look here for low income furnace repair services.


There is other Low-income utility help in Black Hawk County

- This non-profit has information on utility and energy bill help too. The case workers may be able to provide energy assistance to those in need of emergency help. Also, click here to read about LIHEAP crisis assistance programs.


Emergency crisis assistance

- This may be offered on a limited basis to those individuals who are facing a financial hardship, with priority for seniors and the disabled in Waterloo. The community action agency Operation Threshold may be able to provide limited financial assistance, free money and cash grants to those households that are currently facing crisis situations such as utility disconnection or refusal to deliver heating oil or fuel.
Homeless prevention

- The non-profit known as OT can provide help to the homeless in Black Hawk County in the form of grants to pay a rental deposit or low income housing. People with an eviction notice can receive funds, or a short term loan, to pay rent, as a last resort.


Weatherization

- Homes and living units that are weatherized use less energy to heat and cool the homes, so their monthly utility bills are then much lower. In addition to making homes more energy- efficient, the Weatherization program may also be able to replace heating units and furnaces as needed and conducts a complete safety inspection of appliances to ensure the home is both safe and energy efficient.


Free housing counseling

- Receive both advice and assistance before buying a home, and also post-purchase advice, such as foreclosure prevention and mortgage help.
Call the Waterloo Iowa based Operation Threshold at (319) 291-2065. Or click here more information on Operation threshold.
Black Hawk County Social Services helps the unemployed, low-income and elderly. Apply for Medicaid or free money from TANF. Or get help paying for groceries with SNAP benefits, SSI disability grants or housing programs from 1407 Independence Ave, Waterloo, IA 50703. Phone: (319) 292-2270
Harvest House Ministry Center administers several social services and resources. They include food pantry for those in need of a meal or groceries. The non-profit has a faith-based transitional home for women and their children who are affected by sudden loss of income, domestic violence, or other difficult situations. Also can offer furniture for a home. Clothing includes hats, snow pants, boots, and winter coats. Dial (319) 472-4440
Iowa Legal Aid has free lawyers for the low-income, homeless and elderly in Black Hawk County. Get help stopping an eviction, free divorce or will filings, legal aid to stop debt collectors and more. The location is 607 Sycamore St #304, Waterloo, IA 50703. Call (319) 235-700, or look here for a free legal aid lawyer in Iowa.
Low cost or free community clinics in Black Hawk County Iowa
Eastside Ministerial Alliance (EMA) - This community clinic serves the uninsured, low income as well as the under insured. They help adults who are on Medicaid get free eye exams, dental, or health care. Or others without the cash to pay for a medical bill may get assistance. The community clinic provides numerous medical services, including free physicals and illness and minor injury care to all ages.
The Waterloo community clinic is staffed by volunteer physicians and healthcare providers, nurses, and others who are working collaboratively with community agencies and local hospitals. Together they provide services and education that promote health and wellness in the community. Phone (319) 235-5580. Find other free medical care options.
I Hope Free Medical Clinic, phone (319) 215-3769, is a local free medical clinic to care for low income patients from birth to geriatric life. Expectant moms will get free care, there is a free OB/GYN, geriatric services and other support.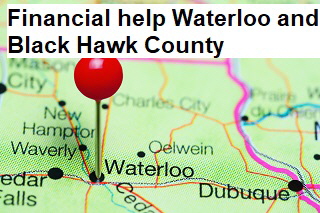 Peoples Community Health Clinic offers health care on a sliding fee scale. The center provides routine physicals, check ups, diagnostic and laboratory services to the uninsured. Phone (319) 272-4300. They also arrange transportation, including to a local dialysis centers if applicable, and look here to apply for free ride to a dialysis appointment.
Free debt reduction, foreclosure prevention, and financial counseling
Consumer Credit Counseling Service of Northeastern Iowa offers clients several different credit, housing, and debt assistance programs. The services include low cost debt management plans, bankruptcy counseling, budgeting, and foreclosure counseling sessions. Both homeowners and buyers will get help. Click here for additional Iowa mortgage assistance programs.
They also give

advice on auto loans

, including refinancing, getting relief with a payment, and assistance in getting back on track with a car or truck payment. Dial the agency at (319) 234-0661, or look here for how to roll over a car loan.
Food pantries for free groceries and food
There are several ways to get assistance with nutritional needs. Whether it is a free food pantry or soup kitchen below, entering into the SNAP EBT assistance program, or USDA resources, there are options in Black Hawk County.
NE Iowa Food Bank - Cedar Valley Food Pantry ((319) 235-0507) can provide Crisis and Supplemental food boxes for families and individuals in need of help or feeding their family. Get canned groceries, fresh fruit or produce, pet food and more at 1605 Lafayette St, Waterloo, IA 50703.
Countryside Vineyard is a food pantry for those who need help. Call (319) 433-1368
Related Content From Needhelppayingbills.com