Rental assistance in Baton Rouge.
Find how to get help with rent or housing needs in Baton Rouge as well as the parish. Tenants who are struggling will get financial assistance to stop evictions or funds to access affordable housing, including no wait list apartments. Learn about churches, charities, and government agencies that provide emergency rental assistance, money for security deposits, section 8 housing or free motel vouchers. Find rental assistance near you in the Baton Rouge Louisiana area.
Financial resources in the East Baton Rouge Parish Louisiana area and city include grants or loans as a form of homeless prevention. The emergency housing programs are available to applicants that qualify and are approved, with a focus on the indigent, families with children (including single moms), and people who are in transition from dependence to independence. There are also other security deposit assistance programs.
Self-sufficiency is also offered to low income and/or struggling renters. This is one of the keys as the Baton Rouge organizations do not offer never ending financial assistance with back rent or utilities. Almost all of the rental assistance resources are short term in nature, and have defined time limits, including the free temporary housing.
Organization that help with rent in Baton Rouge Lousiness
Family Service of Greater Baton Rouge can be reached at 225-927-9810. A great place for referrals as well as information on housing, rent assistance, and other local non-profits. There is everything from rent or mortgage help from the Ryan White Part A Program to shelters, legal aid, and safe housing for women facing domestic violence. The location is 4727 Revere Ave, Baton Rouge, LA 70808.
The East Baton Rouge Parish branch of Volunteers of America can be reached at 922-3900 or call (225) 387-0061. The national charity organization known as Volunteers of America offers limited eviction prevention assistance and emergency help on a one time basis to those that qualify when funds are available. Since funds are limited, some applicants may be provided a loan as a form of rent help.
A major focus of VOA is om veterans and the SSVF program. Any homeless person or renter that would like more information on how to solve housing needs, please contact them directly for details. Location is 7389 Florida Blvd, Baton Rouge, LA 70806.
The American Legion Department of Louisiana provides financial and material help to active duty and military families only. A DD214 must be presented to qualify. The agency, at the state level, runs the Temporary, Military Financial Assistance Program. This cash assistance program is available to those that qualify and are approved.
The National Office funds the programs, but applications are accepted locally here. All applicants are screened on a local or Post level. The program is run by the American Legion Department of Louisiana at 602 North 5th Street, Baton Rouge, LA 70802. The Department of Louisiana phone number is 225-219-1945 and the number for Military Family Assistance is 225-219-3700
Connections For Life is for women who are single and indigent and who are in transition from dependence to independence. They collaborate resources from a network of support services and non-profits. Shelter, transitional housing, and funds to pay a security deposit or referrals to first months rent programs may be available. Dial (225) 379-3640, or the office is at 2286 Highland Rd, Baton Rouge, Louisiana 70802.
Baton Rouge Office of Community Development can be contacted at (225) 389-3039. This office ran the homeless prevention program for the federal government. They also help with advocating on affordable housing in the parish. As funding allows, grants are offered to tenants to help them pay rent, moving costs, utilities, and more. In addition some vouchers for local hotels or motels were offered, as well as services such as budgeting workshops and credit counseling.
Christian Outreach Center helps with basic needs. As funding allows, minimal rent or electric bill help is offered. There is also a homeless ministry, and the address is 1427 Main St, Baton Rouge, LA 70802. Call 225-377-8582.
Immaculate Conception Catholic Church offers emergency financial aid, including for rental or utility arrears, moving, security deposits and more. In general, aid is one time per year with funds given to landlord or utility company - not the applicant. Rent or other aid is for people regardless of religion from 1565 Curtis St, Baton Rouge, Louisiana 70807. Call 225-775-7067.
Cancer Services Of Greater Baton Rouge is located at 550 Lobdell Ave, Baton Rouge Louisiana United States, dial 225-927-2273. Financial assistance may be offered for cancer patients, and this can include for housing costs.
Baton Rogue Housing Authority - EBRPHA is the PHA and the office is at 4731 North Blvd., Baton Rouge, LA 70805. Applications are processed for the income based section 8 Housing Choice Voucher Program from HUD. It is income based, rent reduced apartments or homes for the low income, seniors, disabled, and Baton rogue families in poverty. Government grants, affordable housing, and other aid, even emergency section 8, is offered too, and even get section 8 security deposit help. Call (225) 923-8100.
Baton Rouge Catholic Charities provides social services, case management and counseling. This is the local Catholic Charities agency providing social services throughout the parish. Immigrants, single parents, and the poor can get financial help for back rent, storage costs, utility deposits and more. The location is 1900 S Acadian Trwy, Baton Rouge Louisiana 70808, call 225-336-8700.
St. Patrick Catholic Church (12424 Brogdon Lane phone: (225) 753-5750) as well as St. George Catholic Church (7808 St. George Dr. phone (225) 293-2212) can both be contacted. They do not take walk ins, and people need to call first. A number of housing and emergency services are offered in a limited fashion to the needy.
Society of St. Vincent de Paul of East Baton Rogue parish only gives financial help to tenants with an eviction or pay or quit notice. Telephone - 225-383-7837. There is also shelter, rental help when qualified, Collaborative Projects, and referrals. SVDP is at 220 St. Vincent de Paul Place, Baton Rouge, LA 70802.
St. Thomas More Catholic Church may have everything from free furniture to rent payment assistance or funds for water bills or utilities. There are gasoline cards, housing placement services and other support from 11441 Goodwood Blvd, Baton Rouge, Louisiana 70815. Call 225-273-3934
Salvation Army Social Services can help those with an eviction notice and can offer rent payment assistance. A number of other emergency services and resources are offered for the low income, seniors, and those facing poverty. There is also free motel vouchers, transitional housing, and other assistance programs. The main center is at 7361 Airline Hwy, Baton Rouge Louisiana 70805. Phone: 225-355-4483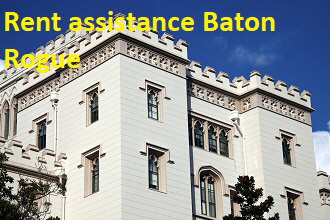 Emergency Solution Grants, or ESG, from Capitol Area Alliance for the Homeless is an option. The agency is located at 153 N 17th St in Baton Rouge and can be called at 225-388-5800. They run the Homeless Prevention Rapid Rehousing Program for the East Parish region.
This is part of the federal government funded grant program that can address housing or rental needs. It is a last resort for people with a sudden loss of income, individuals facing imminent eviction, and more. All other options need to have been explored before contacting this location. As qualified, get emergency rental assistance, money to pay for moving or storage costs, motel vouchers and more. As noted, the phone number is 225-388-5800.
Shiloh Missionary Baptist Church may help with everything from assistance for renters to immediate housing referrals. The goal is rehousing or homeless prevention in the city. The parish is at 185 Eddie Robinson Sr Dr, Baton Rouge, LA 70802. Call 225-343-0640.
Additional homeless prevention is also available in Baton Rogue Parish. Some stabilize the tenant (such as TBRA) and others provide emergency grants for rent, motel vouchers or utilities. Programs also focus on tenants with children, senior citizens, immigrants and single moms. they and others can apply for rent help. Learn more on eviction prevention and rapid rehousing in Baton Rogue.
Dr. Leo Butler Community Center, located at 950 E Washington St , may occasionally have funds for one time, emergency rental assistance available. In some cases zero percent interest loans may be offered for a partial rent payment. call 225-389-4860 for intake.
Office of Social Services can assist with mortgage or rent payments. A focus is on seniors, the disabled, and indigent in Baton Rouge Parish. The main number is 225-358-4561. There is cash aid, TANF grants, SSI disability and more from 4523 Plank Rd, Baton Rouge, Louisiana 70805. They also run the Community Service Block Grant.
Southeast Louisiana Legal Services Inc. offers free legal aid and consultation to low income Baton Rogue families. Attorneys can coordinate free eviction defense, deal with utility terminations, and public benefits such as section 8 housing. Telephone - 855-512-3980.
Southeast Ministries Association Inc. provides Rent Payment Assistance, Food Pantry, or free household furnishing. There is also Utility Assistance, help paying for storage, and more. Location is 476 Sharp Rd, Baton Rouge, Louisiana 70815. Main number is (225) 924-5122.
HAART- HIV/AIDS Alliance for Region Two, Inc. runs programs that are for patients with HIV and/or AIDs. Shelter, transition housing, and other aid is provided. Even get information on health care, medications, housing or rent grants and more. Telephone 225-927-1269, or the non-profit is at 4560 North Boulevard,. Baton Rouge, Louisiana, 70806.
St. Anthony's Home (ISP) is an assisted living facility for people with AIDS / HIV only. The main phone number is (225) 923-1389.
Related Content From Needhelppayingbills.com