Rent assistance in Pittsburgh and Allegheny County.
Rental as well security deposit assistance is available for Pittsburgh and Allegheny County low-income families. Charity agencies, churches, and government programs focus on providing low income or section housing as well as grants. Or locate free legal aid to stop an eviction in housing court. Get help with paying rent near you in Allegheny County.
Emergency funds are provided as well. There are grants to pay back rent or loans for qualified seniors, the disabled and low income as well as struggling families in the region. Information is provided below on who to call and where to apply in Pittsburgh for emergency, immediate rental assistance. Many of the agencies and programs listed have limited funding, and they will have their own separate application process, but call and ask for help.
Even if the agency can't provide the family or resident with emergency or ongoing rental assistance, they can usually refer tenants or the homeless to another service that can help. Other resources may include the federal government or state of Pennsylvania free motel vouchers or money to pay for a storage bill or moving costs. This is another options that can be combined with agencies in the Pittsburgh region that offer help with rent or cash aid.
Where to get help with rent in Allegheny County region
Pittsburgh Presbyterian Lazarus (412-323-1400) can offer at most $250 in one time assistance to help with rental evictions, pay utility bills, and even such expenses as medical bills.
Careline from Catholic Charities is an option for emergency assistance. The main office is at 212 9th Street in Pittsburgh, PA. Call 412-456-6999. Some of the financial assistance offered can help during a short term hardship or emergency, and can, in limited circumstances, be used for housing and/or rent.
Allegheny Churches have formed a partnership known as the Allegheny Valley Association. The main office is in Natrona Heights. Dial 724-226-0606. Residents of East Deer, Brackenridge, Tarentum, , Fawn, Frazier, Harrison, Lower Burrell, Verona, New Kensington, or Arnold can apply for help. A wide variety of bills and expenses can be paid for, including rent, security deposits, food, and more.
Allegheny County Department of Economic Development helps homeless families, women fleeing violence, and those close to eviction. Government grants for rent, home repair loans, disability benefits and more may be offered from 425 Sixth Avenue, Pittsburgh, Pennsylvania 15219. Call (866) 730-2368.
Allegheny Link gives referrals only. Call (866) 730-2368. Learn abuot rental arrears assistance or security deposit help. Or learn about how to find affordable housing, including for seniors. There are also pro-bono lawyers, information on welfare or rent grants and more. The main office is at One Smithfield Street, Human Services Building, Pittsburgh, PA 15222.
Emergency Shelter Allowance (ESA) from Pennsylvania DHS - Department of Human Services, Southwestern County Assistance helps anyone at risk of homelessness (eviction, foreclosure, utility disconnections, etc) as well as the currently homeless. Get financial help for rent or mortgages. ESA can also help with housing placement, motel or hotel vouchers, grants and other support. The address is 305 Fifth Avenue, Pittsburgh Pennsylvania 15222. Call (412) 565-2146.
Allegheny Valley Association Of Churches can be reached at (724) 226-0606. Whether immediate rental assistance, clothing or motel vouchers, furniture or a shelter, support is offered. Any furniture, rent help or social services are offered at 1913 Freeport Rd, Natrona Heights, PA 15065.
Jubilee Association helps the homeless. Get access to a shelter, showers, and guidance. Once stable, referrals are given to low income housing or security deposit assistance. Call (412) 261-5417. The location is 2005 Wyandotte Street, Pittsburgh PA 15219.
YWCA of Greater Pittsburgh helps women, including single mothers or those with no kids. Whether free legal aid, housing, or applications to grants for back rent, help is offered. The non-profit is at 305 Wood Street Pittsburgh, Pennsylvania 15222. They help women in financial or economic distress. Call (412) 391-5100
Community Human Services Corporation helps with eviction prevention and rehousing. They may also help homeowners. Whether one time, limited rental or mortgage assistance, or assistance with storage costs or permanent housing placement, help is offered. The office is at 2525 Liberty Avenue, Pittsburgh Pennsylvania 15222. Dial (412) 246-1601 for information on homeless prevention.
Mckeesport Neighborhood Initiatives helps local families only. Both low and moderate income families (or single parents) can get help from 502 5th Avenue, McKeesport, PA 15132. Locate affordable housing, rent or mortgage help, lot rent help and other financial aid. Call (412) 673-7000.
Allegheny County Bureau of Hunger and Housing Services (phone number (866) 730-2368 or (412) 350-4354) runs a homeless assistance program and also provides rental assistance for Allegheny county low income residents The location is 1 Smithfield Street, Pittsburgh, PA 15222.
If you are on the verge of being evicted and therefore homeless, then the North Hills Community Outreach may be an option for you. The non-profit can provide emergency financial assistance for families or individuals who have received an eviction notice, and the goal is to prevent homelessness. Call the Allston Park agency at 412-487-6316.
Allegheny and Pittsburgh Salvation Army is a great resource for information, and also possible limited amounts of financial aid. Call them at (412) 207-2127 for emergency renter assistance. There are several other Salvation Army Centers that may offer financial aid for paying utilities, rent and housing costs, such as moving costs.
They also offer offers referrals, case management and more. The charity may have some limited rent eviction assistance for qualified low income families or seniors There are also free motel or hotel vouchers. Locations include Brackenridge (call 724-244-6310), Braddock (412-271-2407), and Carnegie (dial 412-276-4757).
St. Vincent De Paul Society also partners with local churches and religious organizations. Dial 412-321-1071 to be put into touch with local charities, volunteers, or churches who may be able to provide help for housing needs, rent, and/or low income housing. Some local agencies may offer loans for paying rental payments or manage shelters in the region.
ACTION-Housing is a leading non-profit housing agency in Allegheny County. It does not offer monetary rental assistance, however the agency does have a program called Homeless Families Program (412-824-2444).
This helps homeless individuals and families identify what their various options are, including giving information about local shelters. Also, ACTION-Housing's subsidiary, Supportive Housing Management Services (412-829-3910) manages a number of apartment buildings with subsidized housing units, including at least one property with limited shelter beds. There is even information on how to rent an apartment with past eviction.
Urban League of Pittsburgh administers a number of resources including a rental assistance program. The non-profit provides qualified individuals with security deposits, rent payments, utility and heating bill payments and general housing assistance. Call (412) 727-2640, or stop by 2320 Hill Street Pittsburgh, Pennsylvania 15235.
Allegheny County Housing Authority administers the section 8 housing program for the very low income, seniors, and poor in the region. This is federally funded and the program provides rent subsidies and vouchers for living in private single houses or apartments. The agency also has information on other housing resources. They offer advice, counseling, information on emergency housing, and run the state of Pennsylvania Section 8 housing voucher program for Pittsburgh. Call the center at 412-355-8940.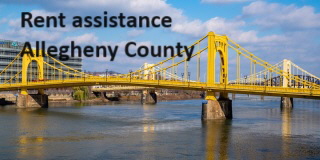 Union Aid Society provides assistance in the Sewickley and Quaker Valley School District only. They manage affordable apartments for the elderly, offer grants as a form of emergency rental assistance, and provide low income housing solutions. 412-741-9240.
Veterans Leadership Program of Western PA and Alleghenyadministers the Supportive Services for Veteran Families (SSVF). Veterans and their families can receive government grants to pay rent and information on permanent housing placement. Other programs include funds for security deposits for the homeless, transportation, shelter, and more. Call the Pittsburgh agency at 412-481-8200.
Another option is

Pittsburgh Final Salute runs the S.A.F.E program. Emergency financial aid (including for rent or electric bills), budgeting classes, new lease deposit help and more is for veterans. Call (703) 224-8845
Get information from the Allegheny County Bureau of Homeless Services, which is a referral service. They help tenants close to eviction or power shut off as well as the current homeless. Grants, cash aid for rent, hotel vouchers, and more may be offered from referrals. Find the Bureau of Homeless Services in Allegheny County.
Allegheny County Welfare Department also offers cash aid. They operate the Emergency Shelter Allowance as well - it is run by the county and city Welfare Department. This includes eviction prevention and funds for rent to those with a pay or quite notice. Short term housing or apartments, as well as no interest loans may also be issued for housing or rental expenses. Call 412-565-2232 or try the number listed above. It is in the southern part of the county.
Additional homeless prevention may be provided from ESA. The government both helps with rent and housing placement, which includes the possibility of free motel vouchers or money for a security deposit. Tenants facing eviction also may qualify for legal aid, in additional to the one time rental assistance. More on Allegheny County eviction help.
Allegheny Neighborhood Legal Services Association coordinates free legal aid for qualified low income families. They can offer help to prevent evictions, resolve landlord disputes, and ensure fair housing laws are followed. Get help in dealing with disputes over rent and landlord mediation too. Call 412-255-6700 or try the Pro Bono Center of the Allegheny County Bar Foundation at 412-402-6677 for referrals.
Related Content From Needhelppayingbills.com