Rent assistance in Middlesex County New Jersey.
Find organizations in Middlesex County that provide rental assistance to low income families. The agencies, most of which are charities, churches or government organizations, will focus their limited resources on families facing an eviction. Funds for paying rent, security deposits or section 8 housing choice vouchers will also be prioritized on those residents with some form of income. Or find free lawyers that help stop evictions as well as free motel vouchers. Get rent assistance near you in Middlesex County NJ.
If a resident of the county is too far behind, then the agencies will try to help the family find some form of affordable alternative housing. In these cases, they will offer information on security deposit programs or government grants that can possibly assist with a portion of the moving costs or first months rent that is due for the new home or apartment. The process may also include storage costs or moving cost assistance.
Financial help for renters and struggling tenants is limited in Middlesex County NJ. There are also no-wait list homes and apartments. Referrals can be given too. There are also programs, including some luxury homes, focused on veterans, the disabled or single mothers (among others) that need housing assistance. More on renting a luxury apartment with section 8.
Find help with rent or housing in Middlesex County NJ or security deposit assistance
Catholic Charities Diocese of Middlesec County NJ and Metuchen has several churches that are part of the organization. The charities will offer rent help to low income families, single moms that are facing homelessness. There is focus on senior citizens as well as families with children, and immigrants in the region can also get assistance with housing needs.
The charity will also provide one-time security or utility deposit assistance as part of Rapid Re-Housing. There may also be grant money for back rent or free legal aid to tenants, case management and more in Middlesex County. This will all be in addition to the funds that help with housing expenses. Location is 319 Maple Street, Perth Amboy, New Jersey 08861. Or dial 732-324-8200.
Coming Home of Middlesex County
Office address is 75 Bayard St, New Brunswick, New Jersey 08901. Phone: (732) 296-7954
A leading homeless fighting organization in Middlesex County New Jersey. Assistance programs help tenants or homeowners who are facing eviction as well as the homeless. Programs include government grants for rent or security deposits, transitional housing, free legal aid in court, and more.
Puerto Rican Association for Human Development
100 First St, Perth Amboy NJ based but supports the county. Eviction prevention is for immigrants. They also offer counseling, food to the homeless as well as information on grant programs for rent and more. For details, dial (732) 638 – 2870.
Community Hope and the Supportive Services for Veteran Families (SSVF)
(855) 483 – 8466
Assistance is for veterans in Middlesex County. Funding is very limited. They will help families struggling to live in their home. Money is for utility bills, rental expenses, transportation, and more. Also, get appreciations to VA benefits.
Jewish Renaissance Foundation helps tenants regardless of faith. The address is 149 Kearny Ave, Perth Amboy, New Jersey, 08861. Call (732) 324 – 2114. Numerous services are run. When it comes to any rent help, this will be provided in the form of a zero percent interest loan. The Family Assistance Center will also assist with mortgages, coordinate low income housing, and help with move in costs.
Salvation Army has a few centers in the region. Transitional housing, such as Care House, is offered along with referrals to emergency financial aid for short term rent. There are also homeless shelters and furniture programs for tenants. There are also free motel vouchers and other financial resources.
Perth Amboy office is at (732) 293-1400.
615 Watchung Ave, Plainfield, NJ, dial (908) 756-2595
Multiple public housing authorities are in Middlesex County New Jersey. They are a section 8 voucher site. Very low income families, immigrants, seniors and others can get rent subsidies for helping with their cost of housing. There are also public housing, low cost apartments or rent homes, and other HUD programs. The government agencies (listed below) processes applications for section 8 vouchers. There are income based homes or apartments, home buying services, self-sufficiency and more.
South Amboy Housing Authority, 250 S Broadway, South Amboy, NJ 08879. Dial (732) 721-1831
Sayreville Housing Authority, 650 Washington Rd, Sayreville, NJ 08872. Main number is (732) 721-8400
Carteret Housing Authority, 96 Roosevelt Ave, Carteret, NJ 07008. Call the PHA at (732) 541-6800
Woodbridge Housing Authority is at 555 New Brunswick Ave, Fords, NJ 08863. Call (732) 738-8766
New Brunswick Housing & Redevelopment Authority PHA administers section 8. Location is 7 Van Dyke Ave, New Brunswick, NJ 08901. Phone (732) 745-5157
Plainfield Housing Authority process applications as well from 510 Richmond Street, Plainfield, NJ 07060. Dial (908) 769-6335
Edison Housing Authority Court - 14 Rev. Samuel Carpenter Blvd, Edison, NJ 08820. Call (908) 561-2525
Woodbridge Housing Authority is another PHA for section 8 HUD programs, counseling, and more from 10 Bunns Ln, Woodbridge, NJ 07095. Call (732) 634-2750
Saint Augustine of Canterbury Church
Church address is 45 Henderson Rd, Kendall Park, NJ 08824. Dial (732) 297-9713
They only offer emergency rent and financial aid in North Brunswick and South Brunswick. A home inspection is needed, and some loans for rent or energy bills may be issued.
Middlesex County NJ Department of Housing & Community Development
Address is 75 Bayard St, New Brunswick, NJ 08901. For information, dial (732) 745-3025
They offer several assistance programs, both for rent and other needs. There is a Housing First Program, mediation and referrals for tenants, information on affordable housing and other resources.
St. Vincent de Paul Society housing programs
Volunteers will visit the struggling, such as seniors, single parents, and disabled. A small amount of money may be offered for a portion of rent. Other services include short term housing, funds for heating bills or water costs to stop homelessness, and applications to loan programs or public aid.
256 Augusta Street, South Amboy, New Jersey, dial (732) 721-7418
230 New Brunswick Ave, Perth Amboy, NJ 08861, dial (732) 826-0004
Cathedral International Community Development Corporation
The faith based group helps the poor and less fortunate, mostly by referrals. Some funds may cover housing (rent or heat), a homeless shelter is on site, and there are other resources too. Referrals are given to one time grants for assisting with rent too. Find more details on Cathedral International Community Development Corporation rent assistance.
Central Jersey Legal Services - Legal Services of Middlesex County NJ
(732) 249-7600
Attorneys will give free advice to tenants facing an eviction or that are having disputes of housing with their landlords. They will represent tenants as well as the elderly in housing court.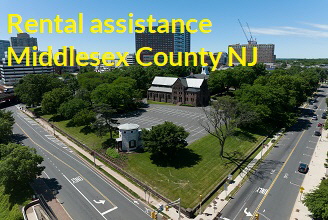 HPRP - Homeless Prevention and Rapid Rehousing is used to stop evictions and place families into new apartments. Government grants help with rental expenses and related costs, such as moving expenses or a security/utility deposit. There may also be HPRP funds to provide motel vouchers in Middlesex County, and rent assistance is available for the working poor and single mothers. Continue reading homeless prevention and rapid rehousing Middlesex County.
FISH Hospitality - Interfaith Hospitality Network
456 New Market Rd, Piscataway, New Jersey, 08854 . Call (732) 968 – 5957
Displaced families may receive shelter and possible placement into other short term housing.
Middlesex County Board of Social Services is located at 181 How Lane. They help families apply for government aid, including public housing, utility programs, and more. There is also homeless prevention grants for paying rent or other bills. The main office is in the city of New Brunswick, New Jersey 08901, or call (732) 745-3500.
Supportive Services for Veteran Families (SSVF)
This is a multi-faced housing assistance programs for veterans in Middlesex County and statewide. Grant money can help pay costs (rent, mortgages, deposits, storage, etc.). There are also motel vouchers, information on short term emergency housing and job programs for veterans. Call (973) 463-9600.
Housing Coalition Of Central Jersey - Puerto Rican Action Board Inc
Location is 90 Jersey Ave., New Brunswick, NJ 08901. Main number is (732) 828-4510
Free counseling for both tenants and homeowners. They do not offer direct financial aid.
Additional housing resources or basic needs, such as free furniture or some rent money, may be offered from Faith Fellowship Community Development Corporation (location is 2707 Main St. Ext, Sayreville, NJ 08872, dial (732) 727-9500) as well as the Reformed Church of Highland Park, which is based at 19 S 2nd Ave, Highland Park, NJ 08904. Call (732) 249-7349. They may also help families find homeless shelters in the region.
Related Content From Needhelppayingbills.com