Rental assistance in Worcester County Massachusetts.
Get help with rent in Worcester County Massachusetts, both in the city and county. The leading charity agencies, churches, and government programs to call for financial assistance are below. Low-income families will get emergency security deposit or rental assistance, free lawyers to stop evictions, housing vouchers and more. Find rent assistance near you in Worcester MA.
Hardship funds are for seniors, single mothers, the disabled and working poor. A number of housing resources, including no wait list apartments, grant money and rental assistance programs are offered in Worcester to the low-income. Find more details on low-income housing with no waiting list near you.
While the various groups do in fact focus on providing rental assistance, many can also offer legal advice for dealing with landlord – tenant issues, referrals to section 8 HUD vouchers, and eviction prevention. Note many of the immediate rent assistance programs in Worcester have waiting lists, so it is best to apply for help as soon as possible. Do not wait until an eviction eviction notice has been received from a landlord or apartment manager.
Find help with rent in city and county of Worcester MA
Catholic Charities centers in Worcester County
People of all backgrounds, who meet low income levels, and regardless of religion, may qualify for rent and housing assistance. There is emergency rent help for women facing DV, transitional housing, and support for immigrants in Worcester County.
Another chartity address - 79 Elm Street, Southbridge, Massachusetts 01550. Phone number - (508) 765-5936.
Catholic Charities - Whitinsville - 200 Main St, Milford, MA 01757. Dial (508) 234-3800. Various social services, shelter, and referrals to transitional housing is offered. Case managers can advise low income families, seniors, and others on rental assistance, no interest loans, and other support.
Homeless Prevention Program - Catholic Charities
10 Hammond St, Worcester, MA 01610. Phone: (508) 798-0191 or (508) 860-2250
Helps administer the Homeless Prevention and Rapid Rehousing program, which offers up to 18 months of cash grants to pay rent, security deposits, funds for utilities, and other housing type expenses. This is often combined with case management too.
Montachusett Opportunity Council, Inc. (MOC)
133 Prichard Street, Fitchburg, MA 01420. Call 978-342-7013 or 978-345-8626
A focus is on energy bill assistance, but they can refer qualified individuals to rent and housing resources in Worcester County Massachusetts too.
Worcester Community Action Council
This is one of the countywide community action agencies with multiple offices. The non-profit can offer the low income rent and housing assistance. In addition, they are a great place to call for referrals to government resources.
Address: 18 Chestnut St Suite 500, Worcester, MA 01608. Phone: (508) 754-1176
484 Main Street, Worcester, MA 01608. Call 508-754-1176 or 508-754-0203
Salvation Army - Fitchburg
739 Water Street, Fitchburg, MA 01420. Call (978) 342-3300 for information and assistance.
A number of emergency rental, housing, and other financial assistance programs are offered by this Worcester area Salvation Army. Or low-income tenants will get free furniture for a home and moving help is offered for the homeless.
Community Healthlink runs the TPP - Tenancy Preservation Program in Worcester. Note that financial aid is not provided, but staff may direct or refer households to other resources as appropriate. It is a homeless prevention program for the disabled or those with a mental illness, and there may be information on grants or one time rental assistance.
It focuses on landlord / tenant mediation and offering information. If the individual needs to move, they may help with relocation. Staff may refer clients to security deposit or first months rent assistance programs as well. Community Healthlink is at 26 Queen Street, Worcester, Massachusetts, 01610. Call (508) 438-5656.
Central Massachusetts Housing Alliance - Worcester County Massachusetts Housing Consumer Education Centers offers emergency, one time rental assistance from RAFT. Shelter, transitional housing, and referrals to grants or loan programs as offered too. The funds will help pay for rent and other bills.
The goal is on preventing homelessness and rehouse people into an affordable home, so support for deposit fees may be coordinated too along with other case management. Call (508) 752-5519 for details. The address is 6 Institute Rd, Worcester, MA 01609. More information on rent help from Central Massachusetts Housing Alliance.
Worcester Housing Authority
Location is 630 Plantation St, Worcester, MA 01605. Call (508) 635-3000
The government supported non-profit runs a number of programs. They include section 8 HUD housing choice vouchers, low income apartments, public housing and more. Most clients are seniors, disabled, or single moms or dads. Referrals are also given to local charities for short or long term rental assistance.
Gardner Community Action Council
Street address - 294 Pleasant Street, Gardner, Massachusetts 01440. Phone (978) 632-8700
The local Gardner MA community action agency, which oversees eviction prevention and homeless prevention programs, can offer grants to pay rent, heating bills, and other unexpected expenses.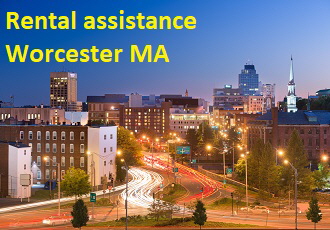 Spanish American Center
Address - 112 Spruce Street, Leominster, Massachusetts 01453. Phone number - (978) 534-3145
Offers rent payment assistance.
Community Legal Aid provides free legal advice, lawyers for tenants or representation for civil matters. This can include eviction prevention, disputed over rent or security deposits, and housing discrimination, among other issues. Call (855) 252-5342
Emergency Food and Shelter (EFSP)/FEMA - Non-profits and charities such as the Salvation Army, United Way or Urban League may have this funding from the federal government. Rent, mortgage and other aid, such as loans, may be offered. Contact information is.
Fitchburg, (978) 342 - 3300
Athold, call (978) 249-8111
Milford, Call (508) 473-0786
Salvation Army - Milford
29 Congress Street, Milford, MA 01757. Call (508) 473-0786
Like many other Salvation Army branches, a number of crisis programs are offered. There will be free motel vouchers, grant money for housing, and back rent assistance. The non-profit charity organization also partners with other groups such as churches.
HOAP (Homeless Outreach & Advocacy Program)
Address: 199 Chandler St, Worcester, MA 01609. Main Phone: (508) 860-1080
Runs the federal government funded Homelessness Prevention and Rapid Re-Housing Program, which covers all working poor and low income Worcester families, if they qualify. Call the non-profit for very limited amounts of financial aid. They may have some funds, from time to time, than can help with back rent, mortgages, security deposits or other bills.
Worcester DTA
The state agency can direct struggling families to local non-profits that may offer money for rent arrears to stop an eviction or additional homeless prevention services. Other Worcester County resources include rehousing into shelter, grants for paying moving costs or rental deposits, energy bills, and case management. Click more information on homeless prevention in Worcester County.
Veterans Inc.
Address: 69 Grove St, Worcester, MA 01605. Main Phone: (800) 482-2565
Rental assistance and more is for veterans, their families, and spouses. The non-profit provides grant money for housing from SSVF. There is free lawyers that help tenants, hotel or motel vouchers, affordable and safe homes or apartments and more for service members or veterans in Worcester County.
Winchendon Community Action Council
273 Central Street, Winchendon, Massachusetts 01475. Call (978) 297-1667
Call to speak to a counselor to learn about rental programs and homeless prevention services. There is help for veterans, senior citizens who live on social; security, and other low-income tenants. The agency takes a pro-active approach to preventing homelessness in the Worcester county area.
Friendly House
Address: 36 Wall St, Worcester, MA 01604. Phone: (508) 755-4362
Call the non-profit for a wide variety of low-income housing assistance. There is free foreclosure counseling and referrals to immediate rent programs that are administered. Grant money, loans, funds fore mobile home rent, rehousing and other support is arranged.
Related Content From Needhelppayingbills.com