Rental assistance Passaic County New Jersey
Learn where to get rent assistance Passaic County as well as financial help to pay a security deposit, moving costs or other housing costs. Charities, churches, and the government offer emergency grant money to low-income families. Find rental assistance near you in Passaic County NJ.
There are agencies in Paterson and the county that help low-income tenants. Get immediate hardship funds for paying back rent to stop an eviction and prevent homelessness. Many of the organizations in the region also provide tenants free lawyers to fight an eviction or section 8 housing. For income qualified families, including the senior citizens as well as the disabled, there may be grants to assist with rent or security deposit payments, free motel vouchers or low-income no wait list homes..
Not only may direct financial aid be provided, but the non-profits as well as government organizations provide non-monetary support. This ranges from resolving landlord and tenant disputes from free legal aid to funds for utility deposits for an apartment. So in addition to offering rental assistance, there are many other resources available in Passaic County.
It is recommend to call to apply for help before missing a payment. As once a resident is too far behind on their rent, then the options available to them are much more limited. Or look here for additional free rental assistance programs.
Where to get help with rent in Passaic County and Paterson NJ
Catholic Family and Community Services of Passaic County
Address: 230 Hope Ave, Passaic, NJ 07055 Phone: (973) 614-9138
When it comes to money for paying rent, this is limited and the applicant needs to have an eviction notice. Other housing programs include a homeless shelter and advocacy for affordable, low income apartments in Passaic County, including no wait list homes. For those that meet program terms there may be furniture as well as funds for a security deposit and limited rental assistance.
Supportive Services for Veteran Families (SSVF)

is also run by Catholic Charities. This is for veterans only, or their families. The homeless can receive a free voucher for a hotel. Other support includes a loan for energy bills or rent, referrals, and a database of low income housing for senior citizens. Address is 775 Valley Rd, Clifton, NJ 07013. Call 973-737-2077
Passaic County Center for Family Resources
Rent assistance may be offered from these sites, as funding allows. Other financial help is for mortgages, energy bills, and more. Staff can also help residents apply for a government grant or rent subsidized housing, including for single mothers or seniors in Passaic County.
655 Broadway, Paterson, NJ 07514. Phone: (973) 523-0089
41 Henry Rd, Hewitt NJ. Call (973) 853 - 2020
712 Gregory Ave, Clifton NJ. The main number is (973) 472 – 8880
12 Morris Rd, Ringwood NJ. For emergency rent help applications, call (973) 962 - 0055
The non-profit provides other help to tenants, homeowners, and renters. Find additional sources of one time rent assistance, relocation services and other support. Continue with Center for Family Resources housing programs.
Center for Food Action
90 Ridge Rd, Mahwah, NJ 07430. Dial (201) 529 – 2029 for information.
The charity has free rental assistance as well as basic needs. They assist the low-income, veterans, immigrants and others. Emergency funds for back rent, storage, a moving deposit and more is offered.
Paterson office of NJ Department of Community Affairs
Office address - 100 Hamilton Plaza, Paterson, NJ, 07505. Call (973) 225 - 7146
Section 8 Housing can help the very low income. It is a federally funded subsidized rent program. Family Self-Sufficiency (FSS) is also part of this housing program.
Passaic County Board of Social Services
114 Prospect St, Passaic, NJ 07055. Phone: (973) 881-0100
Will only help people impacted by a disaster, such as fire or flood, or the unemployed. Relocation assistance can help with moving costs as well as rental/security or utility deposits. They also advocacy on behalf of low income tenants. Another office is in Pompton Lakes.
Paterson Coalition For Housing
109 Washington St, Paterson, NJ 07501. Dial (973) 279-2333
The non-profit, and its partner charities, advocate for low-income housing. There will be referrals to grant money for housing costs, including rent, utilities or a security deposit.
United Passaic Organization - Call to apply for one time rent help. The community action also operates a free homeless shelter, including a cold weather winter site. Other services range from housing support for the disabled and single moms to vouchers for motels and the Specialized Shelter Resource. The address is 41 Myrtle Ave, or call (973) 472 – 2478. More on United Passaic assistance programs.
Paterson Division of Housing, Community Development Office
112 Ellison St, Paterson, NJ, 07505. Dial (973) 321 – 1212
Referrals are given to grant programs for rent, legal aid, as well as non-profits that offer emergency financial help and low interest loans. Staff only given referrals and do not offer rental assistance directly to households.
Salvation Army - Passaic
Main address - 550 Main Ave, Passaic, NJ, 07055. Phone - (973) 779 - 1155
A wide variety of social services are offered. This includes limited rent payment assistance for tenants in a crisis. There is also transitional housing, free furniture for an apartment, motel vouchers and more. Rental assistance is prioritized for single mothers or fathers and people who are otherwise self-sufficient.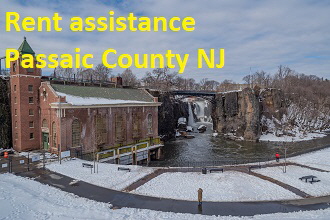 Passaic County New Jersey Legal Services
100 Hamilton Plaza, Paterson, NJ 07505. Call 973-523-2900
Free advice is for foreclosure and evictions. Or get help in applying to Entitlements such as section 8 housing, SSI/SSD, public housing, and state grants. Free landlords help low-income families in Passaic County to resolve landlord and tenant disputes.
Coalition On Aids In Passaic County - Capco Resource Center
100 Hamilton Plaza, Paterson, New Jersey 07505. Dial (973) 742-6742
Housing, including rent assistance, is combined ti medical care and social services for AIDs patients and their families.
Section 8 Vouchers - Housing Authorities
Very low-income families, seniors or the disabled can apply for HUD section 8 housing. The rent subsidy programs partners with landlords and property owners. There is also emergency section 8 in Passaic County.
60 Van Houten St, Paterson, NJ 07505. Phone: (973) 345-5080
100 Hamilton St #510, Paterson, NJ 07505. Phone: (973) 881-4369
Women and Families Ascending Association - WAFAA
Main phone - (973) 766 – 2406
Receive linkage to energy and rent programs. Another focus is on transitional housing for women, including domestic violence survivors, migrants and children.
Related Content From Needhelppayingbills.com