Rent assistance in Columbus Ohio region.
Find a charity, church or government program in Columbus Ohio and Franklin County for rental or security deposit assistance. Most agencies also have information on low income housing, including section 8 vouchers or no-wait list affordable apartments. A number of charities, government programs, and non-profit agencies offer rental assistance to the disabled, elderly, single mothers, working poor or others. Get help with rent near you in Franklin County OH, including grant money or loans for tenants.
In addition to the emergency rent assistance, many low to moderate income individuals and families can also qualify for free legal advice as well as other eviction prevention programs. The number of services and resources that are available to the low income in the Columbus Ohio is extensive. Find a comprehensive listing of non-profit agencies, rental assistance programs, emergency section 8 housing homes, grant money and other housing resources. Find other resources for single mom housing.
Where to get help with rent, moving costs or security deposits in Franklin County OH
Volunteers of America Greater Ohio may have limited funds for housing costs, whether rent, mortgages or utilities. The address is 1780 E. Broad Street, Columbus, Ohio 43203. All funds are limited and the goal is to stop homelessness, with a focus on veterans, the elderly, or disabled. Call 614.253.6100.
Central Ohio Area Agency on Aging only assists people over 50 (the elderly, seniors, etc.). Grants, home repair loans, emergency rent help and more is part of the Housing Assistance Program (HAP). There is also information on subsidized homes or apartments for seniors, medical items, and other financial aid - in addition to for rent. Address is 3776 South High Street, Columbus, OH 43207. Phone (614) 645-7250
Capital University Legal Clinic has volunteer attorneys. The address is 303 East Broad Street, Columbus, Ohio 43215. Phone number - (614) 236-6245. This Columbus legal center can offer free legal assistance and representation to low to moderate income people and the working poor regarding housing issues. It can help with evictions, fair housing issues, and landlord-tenant disputes.
Housing Assistance Homeless Hotline helps tenants, homeowners, single mothers or families with children who need financial aid for back rent, and others. The phone number is 614-274-7000 or 888-474-3587. Referrals are given to churches, local charities and other places that can help. Find rental arrears assistance, storage cost fees, moving for moving or deposits and other social services.
Grove City Emergency Services is at 2710 Columbus Street, Grove City, Ohio 43123.
May have small amounts of funds for paying rent for people in the immediate region. Also receive referrals as well as information on other housing and rental services. Financial aid is for those with an eviction notice. Get access to financial help which may be offered for people who have fallen behind on their monthly housing or utility payments. Call (614) 871-2588.
St.Vincent de Paul Society is a volunteer group of local parishes. The charity may have referrals to low income housing for families with children and men. Other resources in Franklin County may include shelter, linkage to emergency rental assistance programs, and self-sufficiency, such as credit counseling. Address is 197 E Gay St., Columbus, OH 43215. Telephone - (614) 221-3554
First Church of God - City of Refuge Point of Impact. Can refer people to low income housing. The address is 3480 Refugee Road, Columbus, Ohio 43232. For referrals, the phone number is (614) 231-9564
Columbus Metropolitan Housing Authority operates subsidized homes and apartments as well as voucher services. Address is 880 East Eleventh Avenue, Columbus, Ohio 43211. The Franklin County and Columbus Ohio section 8 housing voucher program is run by this non-profit. Counselors can help low income renters with signing up for the Family Self-sufficiency Program, as well as grants and support. Find details on self-sufficiency. Telephone - (614) 421-6091 or 14-421-6000.
Community Mediation Services Of Central Ohio works to resolve disputes. This can be for evictions, maintenance issues, housing discrimination and more. Support landlords and tenants.
If you are threatened with being homeless (eviction or foreclosure), then this agency may be for you. The charity helps families who are at risk of becoming homeless. Qualified low income families can get help with paying for their housing and rent, advice and support for increasing family income. There is also assistance in accessing community resources, Ohio or federal government programs rent or housing, and other aid. (614) 228-7191
Franklin County Department of Jobs and Family Services is at 314 North Wilson Road, Columbus, Ohio 43204. Telephone: (614) 233-2899. The government may offer short term, emergency grants to pay rent. It is to prevent evictions and homelessness. Some funds may be offered for security deposits or energy bills too. Or learn about low income apartments in Franklin County.
PRC, or Prevention, Retention, and Contingency, is another cash assistance program, in which the money can pay for rent in Franklin County. It is for families with children, including single moms and dads. The government aid from Job and Family Services can help pay for housing costs, mortgages, rent, or even energy bills.
1721 Northland Park Avenue is another office address, and it is in Columbus, OH 43229. Call (614) 233-2000 or (844)-640-6446.
Job and Family Services also operates from 1055 Mount Vernon Avenue, Columbus, OH 43203. Phone number for housing assistance is :(614)-233-2000 or (614) 212-1993.
Another PRC office is at 1055 Mount Vernon Avenue, Columbus, OH 43203. Phone - (614) 212-1998
Impact Community Action - Helps with first months rent, mortgages or evictions. Aid is only offered once per year. In some cases loans may be issued for housing expenses, such as rental payments. It is the regional community action agency. Telephone - (614) 252-2799, or find more details on IMPACT housing programs.
HandsOn Central Ohio gives referrals in Franklin County. Learn about homeless or eviction prevention, assistance for renters or low-income tenants, credit counseling and more. The agency works with charities and churches in the region. Call (614) 221-6766 or 614-221-2255 for free information. They can also direct individuals to section 8 housing vouchers and rent help.
Central Community House has limited emergency funds for rent and homeless prevention is available for low income families, seniors, and the disabled in Franklin County. The funds can help stop evictions and pay any back rent to a landlord. The charity is at 1150 East Main Street, Columbus, Ohio 43205. For details, call (614) 252-3157.
St. Stephen's Community House is at 1500 East 17th Avenue, Columbus, OH 43219. Call (614) 294-6347. The EFSP can help with rent and mortgage. This relies on federal and state of Ohio funding. Late fees are not paid. Both loans and grants may be offered from the non-profit for paying rental expenses.
Inprem is a non-profit, charity network that tries to help the less fortunate in Franklin County OH, including with housing, rent, and basic needs. The address is 5757 Karl Rd, Columbus, OH 43229. There may be no-interst loans or financial help for renters. The homeless can learn about emergency housing or get free stuff, maybe even small appliances, for a leased apartment or home. Call (614) 516-1812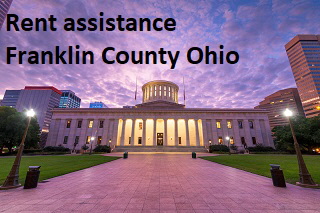 The Salvation Army in Central Ohio has multiple sites, but the main center is at 966 East Main Street, Ohio 43205. Telephone - 614.221.6561. While funding is limited, social workers from the non-profit Salvation Army organization may be able to provide emergency rental assistance, free motel vouchers or other resources. Most of the donations and funding comes from outside sources, such as government programs and private donations. More on Franklin County Salvation Army financial assistance.
Lutheran Social Services of Franklin County and Central Ohio - They offer homeless shelter, supportive living apartments for low income seniors, referrals to rent and security deposit assistance, and other homeless prevention programs. Address is 500 W Wilson Bridge Rd #245, Worthington, OH 43085. Telephone - (614) 228-5200.
Columbus Ohio Coalition for the Homeless partners with agencies as part of the Continuum of Care. If someone is behind on their rent or currently homeless, resources may be available. They organize temporary housing, referrals to motel vouchers, government grants for paying rent, subsidized apartments, and other housing solutions. An intake line is set up, and find eviction or rehousing assistance in Franklin County.
Columbus Urban League Housing Services Department address is 788 Mount Vernon Avenue, Columbus, Ohio 43203. Phone number - (614) 257-6300, ext. 300. Get advice for dealing with landlord-tenant issues. Also access rental and housing counseling.
Franklin County Veterans Service Commission gives many forms of financial assistance to veterans, their families or survivors. Call (614) 525-2500. Government grants, VA benefits, money for rent or mortgage payment arrears, utility deposit help and more. Also learn about public aid. Location is 280 East Broad Street, Columbus, OH 43215.
Broad Street Presbyterian Church runs the Homeless Prevention from the Compass Program. Main number is 614-221-6552. It includes advocacy, free budget counseling, possible rent help and referrals for tenants experiencing financial difficulties. The non-profit operates from 760 East Broad Street, Columbus, OH 43205.
Advocacy Groups provide Homeless Financial Assistance Programs. This includes advocacy homelessness prevention, budget counseling, and referrals to financial assistance. The program also provides affordable housing lists. Free counseling and evaluation is done as part of the application process. Call (614) 221-6552
Gladden Community House has counselors at 183 Hawkes Avenue, Columbus, Ohio 43223. Dial - (614) 227-1600. The non-profit organization may be able to provide counselors to assists with housing needs and tenant rights. The resources and services focus on the near west side of Columbus, including Franklinton and surrounding areas. Offers limited financial help for paying rent and electric bills too.
National Church Residences - Location is 398 S Grant Ave, Columbus, OH 43215 or 2335 North Bank Drive, Columbus, Ohio 43220. The agency helps low-income families and individuals, with a focus on seniors, find quality low income, affordable housing throughout Franklin County and the greater state of Ohio. Also assists homeless and disabled individuals, as well as those on verge of eviction. Call for help - (614) 224-2988.
Equitas Health is only for people with HIV or AIDs. Get short term, immediate rent assistance or funds for utilities (water, electric, heat, etc.) Short term housing is for people living with HIV. They operate the AIDS Resource Center Ohio, which can provide referrals to low income housing, medical care, and social services for AIDs patients. Support is also for their families. Funds to pay rent or other costs are available. Dial (614) 299-2437. Address is 4400 North High Street, Columbus, OH 43214.
Van Buren Center is at 595 Van Buren Drive Columbus, OH 43223. Programs range from a homeless shelter to transitional housing, referrals to security deposit, moving, or first months rent help and more. Phone 614-689-2020.
Center for Groveport Madison Human Needs is a non-profit. They only have financial aid for low income people in the Groveport Madison school district. Get information about local community resources. Services include emergency cash assistance, rental assistance, and household items. Address - 511 Main Street, Groveport, Ohio 43125. Telephone number - (614) 586-4017
Additional Franklin County Ohio services for landlords and tenants
Columbus Bar Association

, phone number 614-221-0754, offers free initial legal consultation and attorney referral.

Columbus Metropolitan Area Community Action Organization

, Phone 614-324-5100, provides heating, cooling, weatherization and insulation, mortgage and rent assistance.

Columbus Rent Escrow Program

, Phone. 614-645-7420, allows a tenant to pay monthly rent into a rent escrow account set-up by the city, instead of to the landlord, until housing code violations are corrected.

Legal Aid Society of Columbus

, Telephone number - 614-224-8374, free legal assistance for low-income households, information on rights and duties of tenants in Franklin County.
Related Content From Needhelppayingbills.com