Free dental clinics in South Carolina.
Free dental services are offered by clinics and health centers in South Carolina. Low income families, the uninsured, people on Medicaid, children, as well as elderly will get care. Get free teeth cleanings, exams, fillings, dentures, root canals and more, including affordable services. Find a free dental clinic near you in SC.
Dentists also take adults with Medicaid or provide care to kids or the unemployed. There is also emergency oral surgery, X-Rays, fluoride, and government grants to pay for dental implants in SC. In addition to the clinics, find a telephone number for referrals to other dental care at the bottom of this page. Very rarely will anyone be turned away. Usually dental care is offered on a so called sliding fee scale, so patients only need to pay what they can afford.
Whether it is an annual cleaning, fluoride, X-Ray, emergency wisdom teeth removal or exam from a dentist, assistance is offered. Other dental programs are offered for free to low income patients and people who either lack health insurance, who have high deductibles or who have limited coverage. Learn more on medical and dental insurance deductible assistance.
The free as well as affordable dental care centers and community clinics provide an incredible option for low income people to turn. Volunteer dentists, chains and other provide free or cheap dental care to patients of all ages. There even teeth replacement programs such as partial or full dentures. Low income families can get either affordable or maybe free medical and dental care.
Local free low-income dental care programs in SC
The main counties and cities have dedicated dental centers for their residents. Find them below. They give free or low cost care to patients as well as referrals or operate charity billing programs. Or learn about government health insurance for low income families. Or scroll down for more locations too.
Rural Health Services - Clyburn Center for Primary Care
Main address is 1000 Clyburn Place, Aiken SC 29801. Call 803-380-7000
The uninsured and/or low income can get dental implants or dentures. There is cleanings, fluoride, and referrals for specialists. Or get help with, dental bridges, dental bonding, inlays, onlays, and dentures for seniors on Medicare.
Anderson Free Clinic
414 N Fant St, Anderson South Carolina 29621. For hours, dial 864-226-1294
Free Medical and Dental Clinic of Darlington County
Location is 203 Grove St, Darlington SC 29532. Call 843-398-0060
This is a nonprofit healthcare organization. They try not to turn anyone away from dental care or medical assistance. Low cost or free services are offered to the uninsured as well as low income.
Mercy Medicine Free Clinic
Main address is 500 S Coit St, Florence South Carolina 29501. Call 843-667-9947
Dentists provide free or low-cost dental care to patients. Preventative cleanings, oral surgeons, teeth extractions for the working poor and other services are offered.
Green location of New Horizon Family Health Services, Inc.
Address is 1 Memorial Medical Dr, Greenville, SC 29605. Call 864-351-2400
There is free dental help for the low income. Applications and care is in Spanish too. Cleanings, fillings, exams as well as check ups. Also get Soft Tissue Grafting, emergency surgery, and more. This is a government grant funded - qualified health center. A mobile clinic is at Family Dental Care Mobile Unit (call 864-801-2035).
Adult Dental Clinic in Lexington
1070 South Lake Dr, Lexington SC 29073. Call 803-785-6651
East Cooper Community Outreach (ECCO)
Main address is 1145 Six Mile Rd, Mount Pleasant SC 29466. Call 843-416-7130
A wide range of social services are offered. There is everything from counseling to volunteer dentists that help low income and uninsured. Or get free medical supplies, enroll into classes on oral hygiene, free toothbrushes and even financial help. Also get referrals to free dental implant services.
Free Medical Clinic of Newberry County Inc
2568 Kinard St, Newberry SC 29108. Phone 803-276-6665
Dream Center Clinic
1220 Summer Ave, North Charleston SC 29405. Call 843-225-1115
Charleston County and the Tri-County region can get help. Dental X-rays, cleanings and other aid. There is also access to Comprehensive oral exams, consultations, referrals to specialists as well as cleanings and dental sealants The free dental center also takes Medicaid from adults as well.
North Family Medicine - Community Medicine Foundation
Address is 1131 Saluda St
Rock Hill, SC 29731
Telephone - (803) 325-7744
Eau Claire Cooperative Health and Dental Clinic, Inc.
This is a sliding fee dental center for the Richland County area. Cleanings, exams for adults and children, and X-Rays are some of the low cost dental services available.
Address is 3800 N Main St, Columbia, South Carolina 29203. Call (803) 705-3169 or dial (803) 733-5969
8063 Edmunds Hwy, Pelion SC 29123. Call 803-894-3736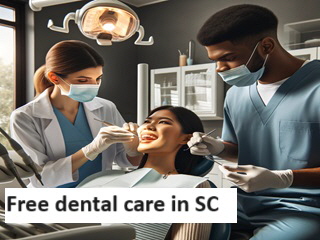 Ruth P. Field Medical Center
Ridgeland, South Carolina 29936. Call (843)987-7400
There are dental clinics and locations in Hardeeville, St. Helena, Chelsea, and Sheldon South Carolina. Some of the dental services offered include root canals, cleanings, bridges, preventive tooth and gum treatment, and tooth extractions. Dental insurance is accepted, and some services may be offered at lower costs to qualified individuals.
Franklin C. Fetter Family HC
Charleston, South Carolina 29403
Phone - 843.722.4112
The number of uninsured families in Charleston County South Carolina is very high. Some dental care may be offered from this site or partner agencies and clinics. Another option is 51 Nassau St Charleston, SC 29403, Charleston, SC 29403. Telephone - (843) 722-0025
CareSouth Carolina, Inc.
268 S 4th St
Hartsville, SC 29505
For hours or information on pricing, call (843) 332-3422
Carolina Health Centers
Greenwood, South Carolina 29646. Call the clinic at 864-388-0301
The center provides primary dental and pediatric health care. Get teeth cleanings for infants as well as adults, with pro-bono dentists giving care.
Family HC, Inc.
Address is 3310 Magnolia St
Orangeburg, SC 29115
Main number is (803) 531-6932
Call the dental clinic for information. Some services are offered for free to income qualified families and/or the uninsured in the community.
Health Care Partners of South Carolina, Inc.
1608 Main St
Conway, SC 29526
Phone number - 843.248.4700
Low income and insured patients can inquire into any sliding fee programs or charity care that may be administered. There is free or affordable dental for the elderly, single moms, and people across Horry County for cleanings, root canals, periodontal treatment and other resources.
HopeHealth, Inc.
360 N Irby St
Florence, SC 29501
(843) 667-9414 or 843.667.9414
Little River Medical Center, Inc.
Little River, SC 29566
Dental services either directly offered or from referrals include general check-ups and cleanings. Rarely patients may need more in depth assistance, such as tooth replacement, x-rays, or extraction. Referrals to specialists are provided to those that qualify.
Richland Community Health Care Association
3041 Old Eastover Rd, Eastover, South Carolina 29044. Dental center phone number - (803) 353-8741
Income qualified patients may receive low cost or free cleaning, x-rays, fluoride, and other support. Get free x-rays, fillings, crowns, bridges, partials, dentures and root canals.
Rural Health Services, Inc.
Clearwater, SC 29822
(803) 593-9283
A federal government qualified center. Free dental assistance, preventative care, fluoride, and more is offered. The site also processes federal and state of South Carolina government health plans such as Medicaid.
Sandhills Medical Foundation, Inc.
Jefferson, SC 29718
(843)658-3005
This location is a non-for-profit federal government Qualified Health and Dental Center. They focus on helping people in Chesterfield, Kershaw, Lancaster, and Sumter Counties South Carolina. They also operate a mobile dental van at Mc Bee, SC 29101, phone 843-335-8291.
Greenville Free Medical Clinic
600 Arlington Ave
Greenville SC 29601
864-232-1470 or Call (864) 232-1470 for intake.
This medical and dental community clinic provides help to the homeless, immigrants and people with no insurance. There free health and dental care, teeth cleanings, exams, and checkups. Or get a root canal or oral surgeons for a crisis. They run a Dental Mobile Unit.
Sumter Family Health Center
Sumter, South Carolina - 29150
Call for help - (803)774-4500
This is a non-profit organization that is dedicated to improving the health of the citizens of Sumter County South Carolina as well as surrounding communities. Various forms of primary medical and dental care are offered without regard for a patient's ability to pay for their bills. The non-profit agency also serves as a community resource dedicated to improving overall dental health.
New Horizon Family Dental - Greenville, SC. Zip code 29601-3955
1 Memorial Medical Dr
Greenville, SC 29605
Call 864-351-2400 for locations and hours or (864) 233-1534
Visits communities in the county and northern and central South Carolina. Dental Clinic for the needy, poor, seniors, and less fortunate.
Regenesis Organization Community HC
1220 John B White Sr Blvd
Spartanburg, SC 29306
Dial (864) 582-2817
An income based clinic. In some cases free dental care is arranged. But the center also accepts Medicaid, government health insurance, and cash as a form of payment.
Little River Medical Center Dental Center
North Myrtle Beach, South Carolina 29582-3707. Call the center at 843-663-3300
Dental community clinic. Supports the high percentage of uninsured in Horry County. Free dental is also for retirees in the region.
More South Carolina free dental clinics near you
There are other resources for low to moderate income residents. There may be free emergency dental care, oral surgery, teeth extractions and more. A major focus is on helping children, veterans, the disabled and elderly. To find additional clinics across the state or in your town that are near you, dial (803) 319-7962 or 888-322-9527 to speak to the South Carolina dental clinic association.
Related Content From Needhelppayingbills.com